Home Fire Safety Connectors
Home Fire Safety Connectors are informed members of the public who have completed brief training to become more aware of how to prevent fire in the home and are willing to share this information with friends, family and neighbours.
Fire prevention remains an essential way of protecting the safety of our community. Every year there are fatalities that could have been avoided. During the pandemic, many people have become more isolated and avoidable fire risks may not be noticed with a lack of home visiting.
Key information can easily be spread by the community to improve home safety and signpost to further help and support. Can you become a Home Fire Safety Connector? All you have to do is watch the following training video and then spread the word!
Check your knowledge here!
What to know more about what happens in a Home Safety Visit? Click here to watch the video!
Please click on the following links for further information and help:
Useful downloads:
For any other information have a look here:
Congratulations you are now a Fire Home Safety Connector!
Please do share what you have learnt with others!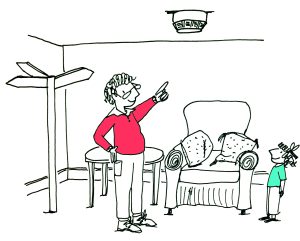 Last updated: 5th September 2023